I am a long-time fan of Mark Driscoll (bio here) and the efforts of Mars Hill Church in Seattle, Washington. Pastor Mark and his wife, Grace Driscoll have written a new book on marriage, which is will certainly be great.
The new book is called "Real Marriage: The Truth About Sex, Friendship, and Life Together". The book is being released on 1/3 (TODAY!), and I'm excited to report the book has skyrocketed to the top of the Barnes & Nobles AND Amazon book sales charts. Not only is a marriage book at the top of the charts… but a CHRISTIAN marriage book! Praise God for all the people and relationships that will be impacted for the name of Christ!
Pastor Mark and Grace Driscoll are real and authentic. They don't just talk about ideals in a vacuum separated from everyone's realities… they offer their personal learning experiences and struggles, while grounding everything in scripture.  They studied 187 books on marriage and could not find ANY that focused on friendship, so that is a core focus of the book. They also tackle many other very touchy issues.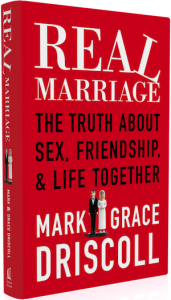 Read More about the Real Marriage Campaign… 
Read More ≫