I am a long-time fan of Mark Driscoll (bio here) and the efforts of Mars Hill Church in Seattle, Washington. In case there is confusion with the "Mars Hill Church" name… Rob Bell, a pastor that has not been preaching sound Christian doctrine, leads a completely different Mars Hill Church.
Mark Driscoll has occasionally been pegged as "controversial"… I think he would agree that he is not perfect. He is sometimes categorized as controversial simply because he is direct, unapologetic about God's Truth, and willing to be confrontational. However, he and Mars Hill deeply love, serve, and preach Jesus with sound doctrine and refreshingly powerful zeal to the nations. Driscoll, Mars Hill, and additional initiatives called the Resurgence and Acts 29 provide SO MANY high quality resources to Christ followers, people who want to know more about Jesus, churches, ministry leaders, church planters, and pastors.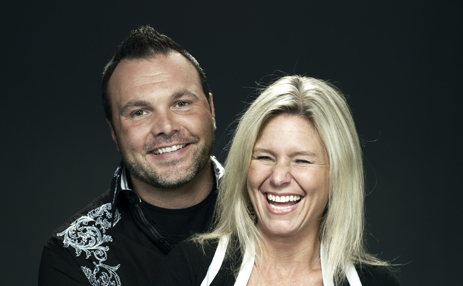 Pastor Mark and his wife, Grace Driscoll have written a new book on marriage, which is will certainly be great. I have read quite a few books from RE:LIT (the publishing branch of The Resurgence)… and every single one have been Spirit inspired and incredibly challenging.
The new book is called "Real Marriage: The Truth About Sex, Friendship, and Life Together". The book is being released on 1/3 (TODAY!), and I'm excited to report the book has skyrocketed to the top of the Barnes & Nobles AND Amazon book sales charts. Not only is a marriage book at the top of the charts… but a CHRISTIAN marriage book! Praise God for all the people and relationships that will be impacted for the name of Christ!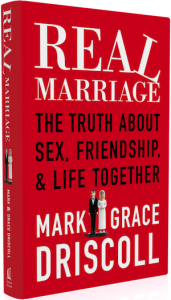 Pastor Mark and Grace Driscoll are real and authentic. They don't just talk about ideals in a vacuum separated from everyone's realities… they offer their personal learning experiences and struggles, while grounding everything in scripture.  They studied 187 books on marriage and could not find ANY that focused on friendship, so that is a core focus of the book. They also tackle touchy issues, such as:
Why being your spouse's best friend changes everything and how to achieve it.
Pornography and sexual sin inside and outside of marriage.
Submission and respect – marriage's most misunderstood tenets-and what they should really look like.
Honoring your spouse emotionally, technologically, and financially.
What the Bible says about masturbation and oral sex.
The "Can we do that?" questions you're too embarrassed to ask your pastor.
How to deal with intimacy issues and create the joyful and fun sex life God intended you to have.
What type of man or woman are you? What type of lover are you? And what type of marriage do you have?
"Real Marriage" is for married couples AND single folks! The goal of the Real Marriage Campaign  is to "equip individuals, couples, and communities to talk about what the Bible says about marriage not just on Sundays, but every day".
I wanted to make everyone aware of the "Real Marriage Campaign" and all resources that are being provided.
Real Marriage Book, DVD & Study Guides
"Real Marriage" is a book, a DVD curriculum for small group / Bible studies, and a workbook / study guide. The product links will take you to purchase at Amazon.com. BUY THIS BOOK!!!!!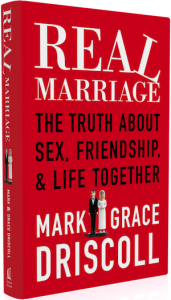 Real Marriage Conference Tour
The Real Marriage Tour kicks off in February at Crossroads Church in Corona, CA and continues throughout the year with locations all over the United States. Click for more information, dates, locations and to purchase tickets ! I have already purchased tickets for my wife and I… we are looking forward to the conference. Watch the video below for more information
Real Marriage Sermon Series (Starts on 1/15)
Below is the Real Marriage Sermon Schedule. The sermons will be available in almost any format you can think of: video and audio online AND downloadable video and audio for DVD players / mobile devices / iPods / iPads… and will also include text transcriptions, study guides, and more.  Click on the logo to access the Mars Hill Media site.

1/15 – New Marriage, Same Spouse
1/22 – Friends with Benefits
1/29 – Men & Marriage … NOTE: Pastor Mark is known for being extremely direct with men.
2/5 – The Respectful Wife
2/12 – Take Out the Trash
2/19 – Sex: God, Gross, or Gift?
2/26 – Disgrace and Grace
3/4 – The Porn Path
3/11 – Selfish Lovers and Servant Lovers
3/18 – Can We _________ ?
3/25 – Reverse Engineering Your Life and Marriage
Real Marriage Book and Resource Giveaway
Stay tuned! We will be doing a book and resource giveaway to help promote the Campaign in the coming week!