Posted on May 6th, 2010 | 1 comment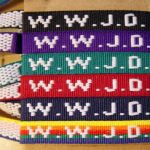 Men… how would you feel if every time you poured your heart out to Christ, He responded with…"Will you please hurry up and get to the point. Not this again! Really, guy? I've listened to this SO many times. Why can't you do this right? You are like a broken record. I'm tired of listening to this, you've had your share of grace. Blah blah blah blah. Jesus… out".
In my head, this is where Jesus forms His holy (yes, that has dual meaning) hand in that goofy, hackneyed pinky-thumb phone structure and hangs up from the prayer.
While I definitely do not talk to my wife like that, surely I do in my actions more often than I should (which, of course, is never). This quick example really made me think about what it means to be the "Head" of and Christlike figure in my marriage in how I love and serve my sexy wife. […]