Last weekend my wife and I saw Soul Surfer as a "date lunch" (movies before 12pm at our local AMC are only 6$!). You would think "one armed surfer" and "shark attack" would entice curiosity and interest in any man. Even though the movie has a few highly recognizable stars in it (AnnaSophia Robb, Helen Hunt, Dennis Quaid, Carrie Underwood, Lorraine Nicholson), I really did not want to see it. The movie trailer and TONS of original video footage / interviews are at the bottom of this post.
My wife spent a couple years of her life in Maui, where she was a beautiful beach bum and surfer, so naturally she wanted to see this movie. I had no expectations, but I was pleasantly surprised. It is definitely neat to write this "Christian movie review" about  "wholesome entertainment" following my last post: Devotional: 6 Words that Change Your Choices & Show You Christ (from James 1:27). In that post, I explored the following verse:
James 1: 26-27: 26If anyone thinks he is religious and does not bridle his tongue but deceives his heart, this person's religion is worthless. 27Religion that is pure and undefiled before God, the Father, is this: to visit orphans and widows in their affliction, and to keep oneself unstained from the world.
Before I give a short synopsis of the story, I'll provide a quick bullet list of the refreshing elements of this movie:
It is a story about people and a person leaning on God and Christian community through a difficult struggle!
The marriages and families are depicted as wholesome, supporting, positive, and encouraging.
No cursing, vulgarity, or sexuality.
It shows faith in Christ!
Scripture is quoted appropriately!
The girl's father reads his Bible as he sits by his daughter's side.
We see how God can redeem an unfortunate situation.
The main actress attends a small group / Bible study and goes on a mission trip.
At the end, the name JESUS is spoken [in a major Hollywood movie!]
Soul Surfer is about the true story of a then 13-year-old Bethany Hamilton (link to her official website). The movie opens with Bethany doing what she loves… surfing off the shores of an Hawaiian island. We see her rushing out of the water because she is "late", and we ultimately find out she is hurrying because she is late for a church service in a tent on the beach. As she slides into her seat, we hear the worship team singing Matt Redman's great song "Blessed Be Your Name". Hearing that song in a major Hollywood production (in the right context!!) was incredibly refreshing.
Bethany LOVES and is extremely gifted at surfing … surfing is her joy and ambition in life. One day while surfing with her brothers, a shark attacks and gobbles her arm. (Note: the shark attack in the movie was kind of funny… they had to really scale it back since the movie is rated PG). The audience then journeys with her as she processes that situation. Initially, as you would expect, she is heartbroken and asks the "why" questions. She experiences a lot of difficulty adjusting to her new life.
As you can imagine, surfing is horribly difficult with one arm.  (Note: I'm a bad person… I kept thinking "if she paddles with one arm, won't she swim in circles?"). She is devastated. Even simple things like opening a Ziploc bag or cutting a tomato are challenging. She eventually realizes that she is not defined by her passions and desires, but still maintains a passion for surfing. Through determination, patience, hard work, and with the help of her family, she learns how to surf again and becomes an amazing champion surfer. Her story touches the lives of millions all over the world. Ultimately, a major Hollywood movie is created about her.
Many people critique this movie as being "cheesy".  Get over yourself. That breaks my heart. Many of us are so tainted by culture and modern media that our first response is negative criticism, instead of simply enjoying an inspirational story. Movies like this are quite rare. At the very least, we should celebrate and be inspired by the faith and story of a fellow Christian! Heck, even in this movie, the producer initially tried to edit out the the words Holy Bible in order to "tone done the Christianity and better appeal to mass audiences".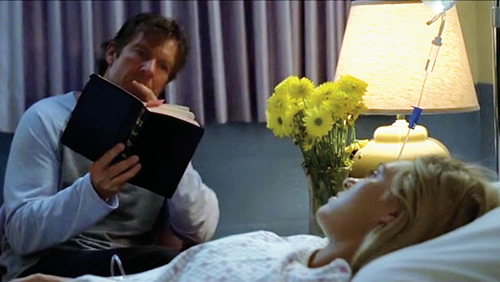 "Jesus" was Mentioned at the End of the Movie!
I was initially a bit disappointed that "God" was referenced many times throughout the movie, but not Jesus. In a movie like this, it is really easy to appeal to the massively loose idea of "God" instead of mentioning the name of Christ. Most of the world agrees in the existence of "God" . However, in real-life clips of Bethany during the closing credits, we see and hear her say "I got my courage from Jesus Christ as she accepts the 2004 Teen Choice Courage Award (video clip below). That was awesome.
Take Your Spouse or Family to See Soul Surfer
Of all the movies or television you and your family could watch… go see this movie.
Official Soul Surfer Movie Trailer
Real-Life Video Clips of Bethany Hamilton
Bethany Hamilton being interviews about a movie being made about her life story.
Footage of Bethany's life and interviews with her friends and family.
Janet Jackson presenting Bethany with the 2004 Teen Choice Courage Award.
This clip also includes many original footage clips and a quick story about her.
Bethany being interviewed on Inside Edition before she is able to surf again.
Nick Vujicic (the man with no arms and no legs) interviews Bethany.
Another interview with Bethany and her friend.